Dower House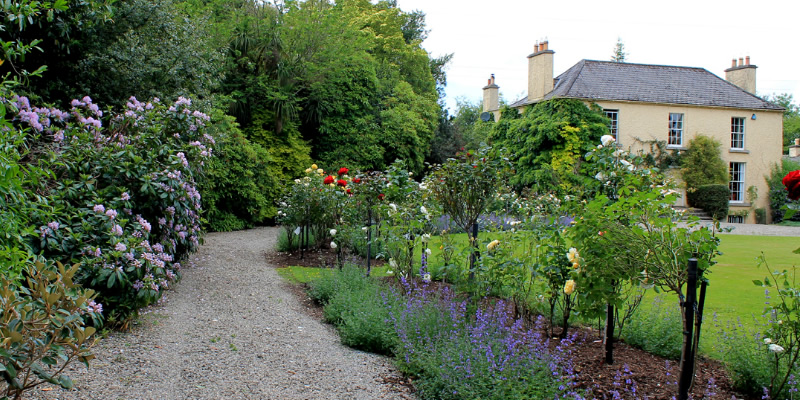 Patricia and Charles Butler
Address: Dower House, Rossanagh, Ashford, Co. Wicklow A67 XR62
Mobile: +353 (0)85  191 1275
E-mail: patriciaannebutler@yahoo.ie
Web: http://www.discoverireland.ie/Arts-Culture-Heritage/the-dower-house/48217
The gardens surrounding this late eighteenth century house (c.1790) were laid out towards the end of the nineteenth century with plantings of many fine specimens including Rhododendron arboreum,  Magnolia soulangeana 'Alba', and Camellia japonica. Also included are a number of specimen mature trees, including a fine Chilean myrtle, Luma apiculata, planted c. 1880. When the Butler family acquired the property, a white garden in a sheltered enclosure behind the house was added together with a wild meadow which reaches its peak in mid June.
The indefatigable Mrs Delany, eighteenth century social commentator, diarist, artist and friend of Dean Jonathan Swift commenting on Rossanagh demesne on which Dower House was built wrote: 'It is a very pretty place… neatly kept'. As early as 1733, A.C. Forbes noted that the largest tree in Ireland, a Spanish chestnut flourished in the demesne. It was under this tree that Methodist preacher, the Reverend John Wesley preached during one of his many visits in June, 1789. Rossanagh holds links to many well known 'personalities' of the day including musician/composer, Thomas Moore, artists, George Romney, Maria Spilsbury-Taylor, politicians, Henry Grattan and William Pitt, the Younger together with Patrick Bronte, father of distinguished English novelists, Charlotte, Emily and Anne. Described as one of 'Wicklow's finest gardens' (Jane Powers), the gardens are open each year in aid of The Wicklow Hospice.
Situated:
Travelling south on M11 take Exit No: 16 – Rathnew/Ashford/Wicklow town exit. Before entering Rathnew take turn on left (R761) and continue for approximately half a mile. Entrance is on left before Hunter's Hotel. Travelling north on M11, take Ashford/Rathnew exit (16) and follow signs for Rathnew. From here on, same directions apply for travelling M11. Please see above.
Parking. Partially accessible for wheelchairs. No dogs (Guide dogs accepted), picnics or prams. Children must be supervised.
"The Wicklow Hospice is very grateful to Patricia Butler owner of Dower House and Gardens who raised a wonderful amount of €1,200 by opening up her beautiful gardens to the public. Her grand-daughter Lydia Cogan who is pictured with Evanne Cahill Chairperson of fundraising, Mark McKenna Wicklow Hospice and Lydia's mum Vanessa Cogan. Lydia was a wonderful help to Patricia during the two months. Patricia will open her gardens again next year, this is a wonderful day not to be missed. Thank you all so much."
Wicklow Hospice Foundation
14 August
Open:
Opening April - 7th July, 2023
By appointment only.
Admission:
6 euro per person
4 euro extra per person for tea/homemade biscuits etc.,
Please note we are open this year in aid of both the Wicklow Hospice and the Wicklow Choral Society
Local Attractions
Located less than a mile from the world famous 'Robinson Style' gardens, Mount Usher, Dower House is also well within easy reach (around six miles) from the National Botanic Gardens at Kilmacurragh. Before setting out, a delicious meal may be had in the famous and ancient Hunter's Hotel which is located almost opposite Dower House.