June Blake's Garden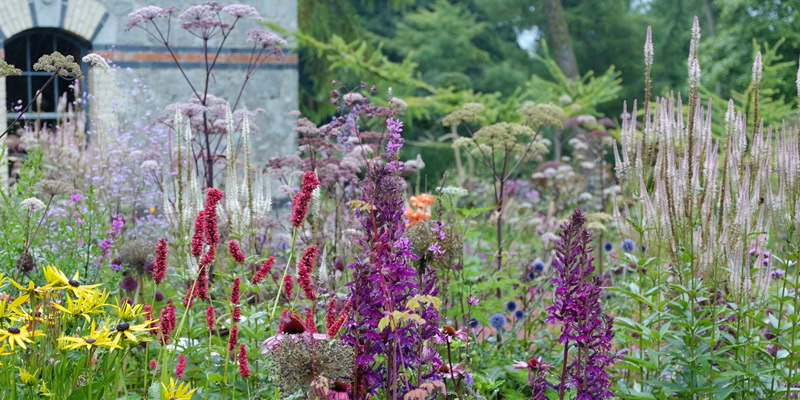 June Blake
Address: Tinode, Blessington, Co. Wicklow, Ireland
Tel:+353 87 277 0399
Web: www.juneblake.ie
E-mail: info@juneblake.ie
The very best gardens intrigue and restore us, and so it is with June Blake's garden which is a rare fusion of inspired design and painterly planting. Situated in the townland of Tinode in west Wicklow, and spread over three rural acres, it wraps itself around June's home, a handsome Victorian farm-steward's cottage surrounded by a huddle of austerely beautiful, granite-stone farm buildings, one of which -the Cow House- has recently been the subject of an award-winning, modern architectural conversion. In a previous life, Blake was a gifted jewellery maker. Those same carefully honed skills- a razor sharp eye and keen attention to detail, an artist's deep appreciation of colour, texture and form, as well as the ability to take a raw, unpolished material and expertly craft it into something aesthetically deeply satisfying- still shine through brightly in her excitingly contemporary country garden.
Within it are many different areas of interest. These include intricately planted borders of gem-like beauty, swathes of naturalistic, prairie-style planting, sculptural landforms, a flower meadow that comes to life in spring with sprinkles of crimson red Tulip 'Red Shine', generous stretches of woodland intersected by curving cobble paths and filled with choice shade-lovers, and a formal, rectangular pool whose silver sliver of water is a mirror to the cloud-streaked Wicklow sky. Each one is so thoughtfully, imaginatively and expertly executed that it would be enough by itself to bring joy to the heart of any gardener. But it is when they are combined together as a whole that they form what is, without doubt, a truly remarkable garden.
Fionnuala Fallon
Situated:
GPS: Latitude 53.213783 Longitude -6.48531
Open:
Open from April 6, 2022.  Wednesday to Sunday, 11am to 5pm. Closing September 25.
Open for Tulip time from Easter (Please 'phone ahead to double-check Easter Opening Times before travelling)
Admission:
Adults €6.00
Facilities:
Plant sales of many of the plants in the garden. Luxury self-catering accommodation.
Guided tours – (Allow approximately 1 hour) by appointment.
Best time to Visit:
End of April – October.
Contact:
June Blake