Ardán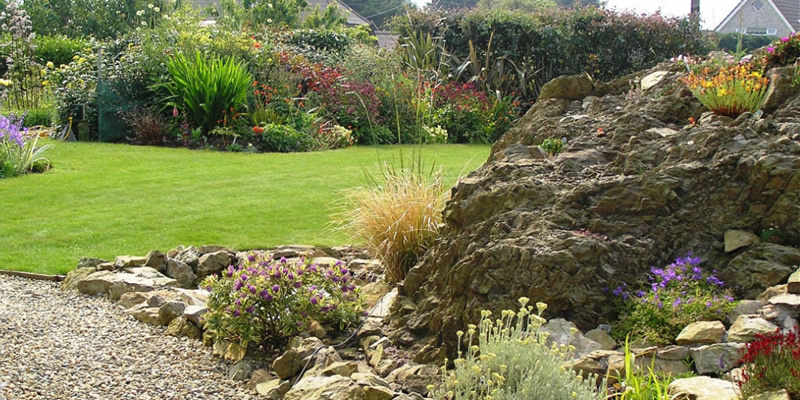 Nuala Doherty and Conall O'Caoimh
Address: Ardán, Windgate Road, Howth, Co. Dublin
Mobile: +353 87 972 4271
E-mail: conall@europe.com
Ardán is situated on half an acre (0.25Ha) of South-facing hillside in Howth (a hilly peninsula on the North side of Dublin Bay).
Design is a response to the need for shelter from the coastal winds, so is broken into a series of spaces each planted in a singular style and evoking a different feeling. Meandering paths tempt the visitor in varied directions, each revealing another space, a different planting style and a change of mood. As you move from the house with its formal 'hot' and 'cool' herbaceous borders around the lawn, the design becomes more contemporary and the planting less formal. It includes a rock outcrop planted with alpines, water garden, vegetable garden, productive glasshouse and a small copse of trees underplanted with shade loving plants.
Accessibility: includes steps and some gravel paths
Each area includes opportunities to sit and linger
Throughout the garden are spread unique ceramic sculptures hand-made by Conall in his home studio, and usually some are on sale to visitors. See www.HowthCeramics.com
An extensive plant list is available to visitors.
Situated:
Situated on Windgate Road, Howth, close to the Summit, precise directions and a map will be given when booking your visit.
Open:
By Appointment only.
Admission:
€6 per person
Local Attractions:
The scenic fishing village of Howth (1km) has many restaurants and cafés, several specialising in dishes with fish fresh from the port.
A range of walking options is available nearby – flat on the three piers of Howth Harbour, or hilly on the Cliff Path that rings the peninsula. Guided walks available from www.shaneshowthhikes.com
Howth Abbey Monestary, national monument
National Transport Museum at Deerpark Castle (1.5km):
www.nationaltransportmuseum.org
Hurdy Gurdy Museum of Vintage Radio, Howth (1km):
https://hurdygurdyradiomuseum.wordpress.com/
Howth Castle Cookery School
Two Golf courses (2km)
Howth Yacht Club (1.5km)
Bailey Lighthouse (1km)
Boat trips to Irelands Eye island
Ferry back to Dublin city and Dunlaoghaire:
www.DublinBayCruises.com
Contact:
Nuala Doherty and Conall O'Caoimh