Ardán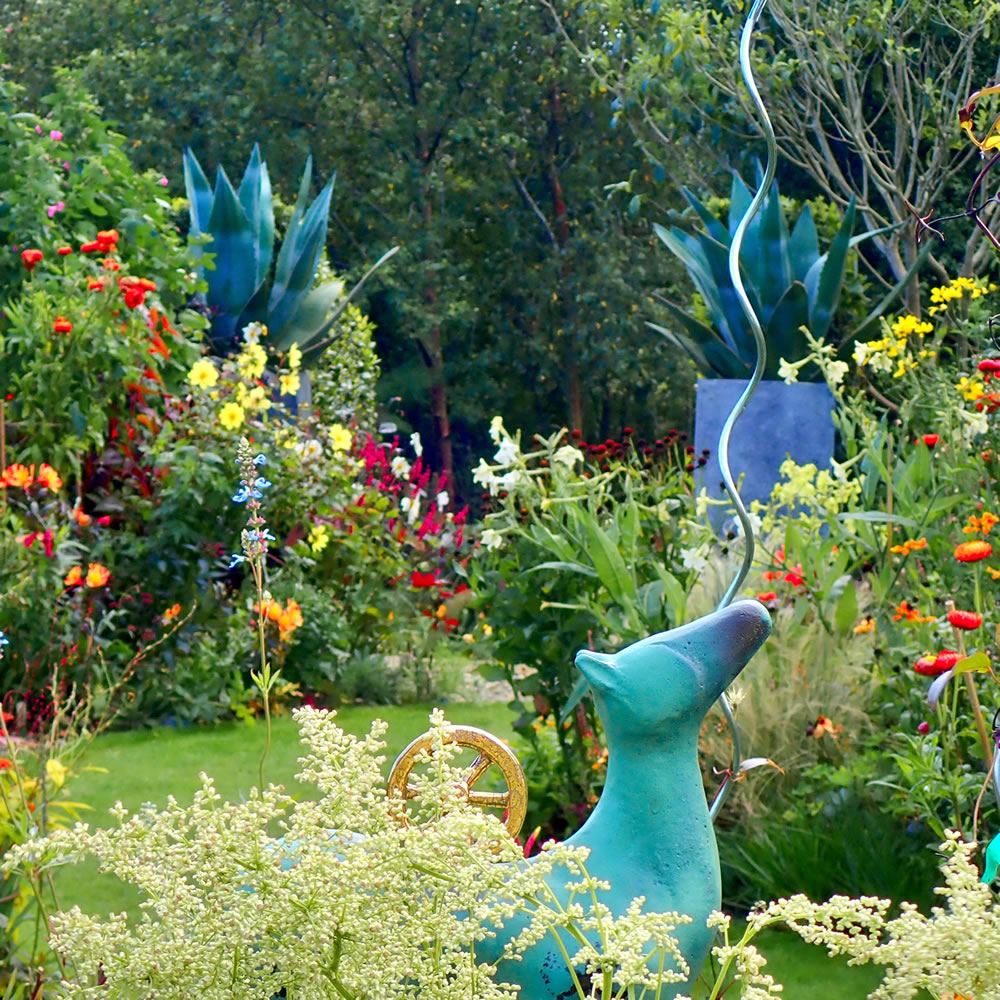 Nuala Doherty and Conall O'Caoimh
Address: Ardán, Windgate Road, Howth, Co. Dublin, D13 K718
Mobile: +353 87 972 4271
E-mail: conall@europe.com
Ardán
Flower and Sculpture Garden 
The planting and design of Ardán Garden are a direct response to its coastal hillside location close to the summit of Howth, a popular scenic peninsula on the north of Dublin.  It is situated on half an acre (2000m2) of what was rugged mountainside when Nuala and Conall initiated the garden in 2003. The twin themes of creating a vibrant place of aesthetic beauty and embracing the environmental conservation status of the peninsula, has dominated and influenced Nuala and Conall's approach to gardening at Ardán. The varied nature of the garden has created habitats for a range of creatures and has resulted in Ardan being recognised as a garden of the UNESCO Dublin Bay Biosphere.
At the outset they terraced the garden and sub-divided the plot with wind-breaks, a structure that lends Ardán its distinctive character - a sequence of intimate spaces each evoking a different mood.  
18 years later, Ardán is a dynamic contemporary and ever-evolving garden which includes an eclectic botanical collection artistically arranged. The passion and skill of Nuala and Conall are evident in the variety of planting areas including large densely planted herbaceous areas, a white garden, an exotic garden with a pond and bog garden, a vegetable garden, a small woodland and a natural rocky outcrop.   
Nuala and Conall are talented plants people who organically cultivate a wide-ranging botanical collection.  They also share a talent for strong design to bring the planting together creatively. 
Conall, a sculptor, adds a golden thread to the garden with his diverse and exciting sculptures which complement the planting, some with botanical themes.
This unique sculpture and floral garden is attracting many garden and art visitors and giving them an uplifting experience that leaves them inspired with ideas and wanting to return. 
Accessibility: includes steps and some gravel paths
Each area includes opportunities to sit and linger
Throughout the garden are spread unique ceramic sculptures hand-made by Conall in his home studio, and usually some are on sale to visitors. See www.HowthCeramics.com
Situated:
Ardán Garden, Windgate Road, Howth, D13 K718
Open:
From June to the end of August, each Friday and Saturday, 11.00am – 4.00pm.
September open only on Saturdays, 11am-4pm.
No appointment needed at these times.
Admission:
€8 per person for garden visit.
Guided Tour:
Group bookings seven days a week by prior arrangement.
Instagram: @ardangarden
Local Attractions:
The scenic fishing village of Howth (1km) has many restaurants and cafés, several specialising in dishes with fish fresh from the port.
Contact:
Nuala Doherty and Conall O'Caoimh