Mount Usher Gardens

Address: Ashford, Co. Wicklow, A67 VW22
Tel:+353 (0)404 49672
Web: www.mountushergardens.ie
E-mail: mountusher-gardens@avoca.com
Mount Usher Garden was created by four generations of The Walpole Family over a period of 115 years commencing in 1865. It was then bought by Mrs Madelaine Jay who leased it to the current tenants, Avoca, in 2007. The garden, which covers 9ha (23 acres) through which the Vartry River runs, is home to many Champion Trees of Ireland as well as approximately 4,500 different varieties of trees, shrubs and plants.
The Walpole's were greatly influenced by Ireland's most famous gardener William Robinson (1839-1935) who proposed that the gardens should be laid out in harmony with nature and the immediate landscape, maintained naturally and be reflective of nature rather than an attempt to conquer it. He was hugely successful both practically and financially and his legacies are 'Robinsonian' gardens', of which Mount Usher is recognised worldwide as one of the greatest examples.
Robinson was not what we call an 'organic gardener', this aspect of Mount Usher was introduced by Mrs Jay in 1980 and while it makes life challenging for our Head Gardener and his team, the garden continues to be maintained organically with pesticides and artificial fertilizers banned.
Mount Usher is a garden to visit at any time of the year, there is always something to see and experience.
Mount Usher Gardens was recently featured in Travel News, Northern Ireland. You can read the article here.
---
"Hurricane and storm delayed our annual autumn visit to Mount Usher Garden in Co. Wicklow and we feared we had left it too late this year and that the recent violent winds would have left the trees stripped of their foliage and deny us the pleasure of the display of autumn colour we have come to love.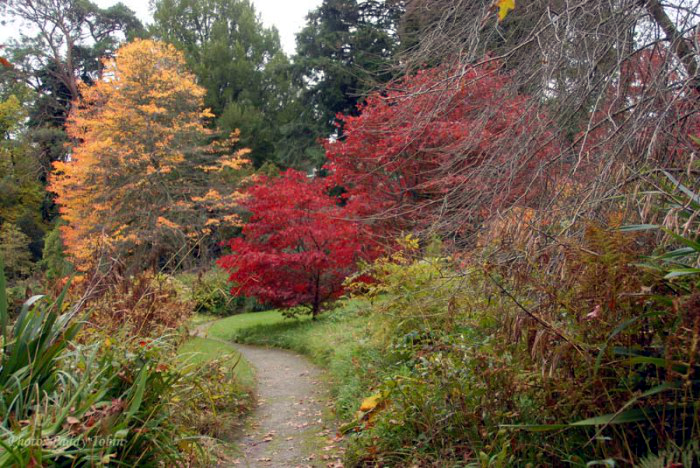 Spring at Mount Usher has the magic of fabulous drifts of spring bulbs – Scilla biflora, erythroniums, wood anemones, crocus and little pockets of snowdrops but fiery autumn colour reflected on the surface of the River Vartry which flows through the garden create one of the most magical of pictures.
Fortune smiled on us; the gales had obviously spared the foliage and, although some trees had been brought down by the storms, there was a display to delight us."
Paddy Tobin
Irish Garden Plant Society
Situated:
GPS: N53-00497 W006-06.403 el 18m
Ashford village, Exit 15/16 off main Dublin – Rosslare M11. 30km south of Dublin.
Open:
Mount Usher Gardens open daily all year: 10am - 5pm (Last admission 4pm) Please check for Winter closing time.
Admission:
Adults €8, Senior Citizens €7, Students €7,
Children 4 – 16 €4, under 4yrs FREE.
Groups (15 or more): Adults €7, Senior Citizens €6, Mixed Group €6.50
Guided Tours: €60.00 (Advance booking required). A Guided Tour takes approximately 90 minutes.
Facilities:
Avoca Cafe, Food Hall, Shopping Courtyard, Toilets, Parking, Wheelchair access (limited). No dogs and no picnics.
Guided Tours:
€60.00 (Advance booking required).
Best time to Visit:
Any time
Local Attractions:
Hunter's Hotel
Web: www.hunters.ie
Avoca Handweavers
Web: www.avoca.com/en/stores-and-cafes/villageers
Chester Beatty's Hotel Restaurant Bar and lounge Ashford
Web: www.chesters.ie
National Botanic Gardens, Kilmacurragh
www.botanicgardens.ie/kilmac
Mickey Finn's Pub & Brewery
Web: wicklowbrewery.ie
Contact:
Gardens Admission office